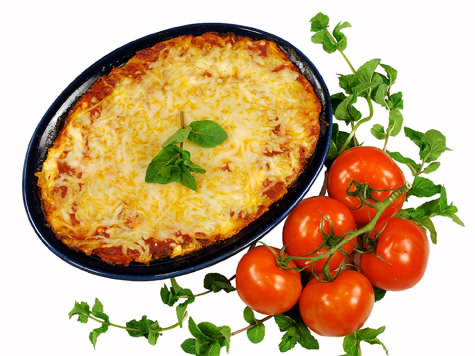 Lasagna - Vegetarian Recipe
Lasagna Ingredients
32 oz of your favorite vegetarian spaghetti sauce
1/16 oz container Ricotta cheese
1 bag (8 oz) of shredded mozzarella cheese (or other shredded white cheese)
1 bag (12 oz) Morning Star Farms veggie meat crumbles (or other veggie ground meat)
1 box Lasagna noodles, cooked (just follow the directions on the box to cook the noodles)
1 teaspoon garlic powder (optional)
3 Tablespoons oil
How to cook Lasagna - Vegetarian Recipes
Place the oil in a saucepan. When the oil gets hot, add the veggie ground meat and cook for 5 minutes. In a 9" x 13" baking pan, spread a layer of spaghetti sauce on the bottom.Place one layer of cooked lasagna noodles over the sauce.
Spread a layer of sauce over the pasta. Sprinkle a layer of ricotta cheese and mozzarella cheese over the sauce. Place a layer of lasagna noodles over the cheese mixture, cover with sauce.Spread a layer of veggie meat and garlic powder, cover with sauce.
Add a final layer of lasagna noodles and sauce. Spray a piece of aluminum foil with non-stick cooking spray to keep foil from sticking, and cover pan with the foil.Bake at 375° F for 45 minutes. Remove pan from oven, uncover, brush with sauce and garnish with cheese. Bake an additional 10-15 minutes to melt cheese. Remove from oven and serve warm.