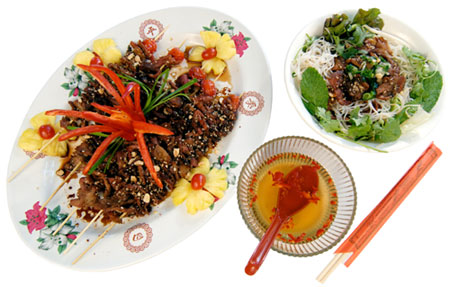 Grilled Lemongrass Veggie Sliced Pork - Vegetarian Recipes
Grilled Lemongrass Veggie Sliced Pork Ingredients
½ pound (about ¼ kg) texturized vegetable protein (TVP) chicken slices, soaked in water for 20 minutes, washed, and drained
½ package Chinese BBQ seasoning powder
1 cup roasted peanuts, crushed
2 packages dried vermicelli noodles or fresh rice noodles
Bamboo skewers, soaked for 20 minutes and drained

Grilled Lemongrass Veggie Sliced Pork - Marinade sauce
4 stalks lemongrass, minced
3 stalks scallion (white part only), finely chopped
1 teaspoon black pepper
1 teaspoon Japanese natural MSG
1 Tablespoon granulated sugar
1 Tablespoon soy sauce (can use Healthy Boy Brand)
½ pound (about ¼ kg) roasted sesame seeds (can be found at Korean or Japanese markets)
2 Tablespoons olive oil

Grilled Lemongrass Veggie Sliced Pork - Scallion oil
10 Tablespoons canola oil
3 stalks scallion (green part only), finely chopped

Veggie chili fish sauce
1 cup spring water
3 Tablespoons granulated sugar
3 teaspoons salt
½ teaspoon mushroom seasoning
1 can Coco Rico coconut soda
juice of 1 lime
½ teaspoon soy sauce (can use Healthy Boy Brand)
1 teaspoon red chili paste
Grilled Lemongrass Veggie Sliced Pork - Garnish
A few cucumbers, finely cut
1 package (250g or 9 oz.) bean sprouts, washed
1 head Romaine lettuce, washed
1 bunch Chinese chives, washed
1 bunch cilantro, washed
1 bunch laksa leaves, washed
1 bunch fresh mints, washed
1 bunch saururis, washed
Lime wedges sliced

Thai chili peppers
How to cook Grilled Lemongrass Veggie Sliced Pork :
In a big bowl, combine the TVP chicken slices and the marinade sauce together. Mix well and marinate for 15 to 30 minutes. Cook the rice noodles until soft, rinse with cold water, and drain. Place the canola oil into a small saucepan. Add the chopped green scallions. Fry about 2 minutes or until fragrant. Remove from heat and let cool.
Mix all ingredients for the veggie chili fish sauce in a small bowl. Put aside. Slide the marinated TVP chicken slices onto the bamboo skewers and grill on the barbecue or in the oven at 300° F for about 15 minutes. Sprinkle roasted peanuts on top.
Put the mixed herbs, cucumber, and bean sprouts into a bowl, then add the rice noodles, the grilled veggie pork, the veggie chili fish sauce, and the scallion oil. Sprinkle on more crushed roasted peanut if desired.