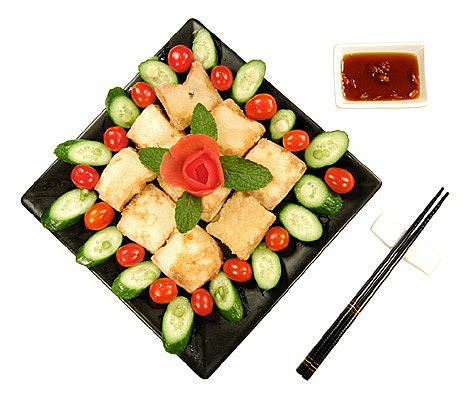 Crispy Tofu - vegetarian recipe
Crispy Tofu Ingredients
8 oz. soft tofu (in box with water)
¼ cup rice flour*
2 Tablespoons tapioca starch
5 cups canola oil for frying
Crispy Tofu Dipping Sauce
1 Tablespoon soy sauce
½ teaspoon granulated sugar
½ teaspoon chili sauce
Pickled Cucumber
2 small cucumbers (small seed variety), cut into bite-sized chunks
¼ cup rice vinegar
¼ cup granulated sugar
½ teaspoon salt
1 Tablespoon chili sauce
2 Tablespoons minced shallot
1 Tablespoon soy sauce
1 Tablespoon olive oil
Crispy Tofu Garnish
How to cook Crispy Tofu
Combine all the dipping sauce ingredients in a small bowl. Put aside. Combine all the pickled cucumber ingredients together in a big bowl. Put aside. Mix the rice flour and the tapioca starch together.
Remove soft tofu from the box, use a paper towel to pat it dry, and then allow it to stand for about 20 minutes. Then, cut tofu into 9 square pieces. Take a nonstick frying pan and place it on medium heat. Add in oil to the pan and heat until it is about 380˚ F.
When the oil starts to smoke, take each piece of tofu, coat gently with the flower mixture, and pan fry until golden. This should take for about 5 to 7 minutes. Don't turn over the tofu because it will break. Remove from pan, and place on paper towel to absorb excess oil. Place tofu on a plate and serve hot with special dipping sauce and cucumbers soaked in vinegar.